Hermes is a Florida-based
digital agency
working with purpose-driven people and companies.
Consult
Problems become solutions.
Design
We strategize and iterate.
The details include the month and year we launched, the country they are based, the overall service completed, an image if there's something for you to see, and a button if there's more to experience.
Development
Loops Only is a project we took on to develop a landing page where visitors can interact with crochet teacher, influencer, and designer: Karmen.
It serves as the unified place to access more of her content.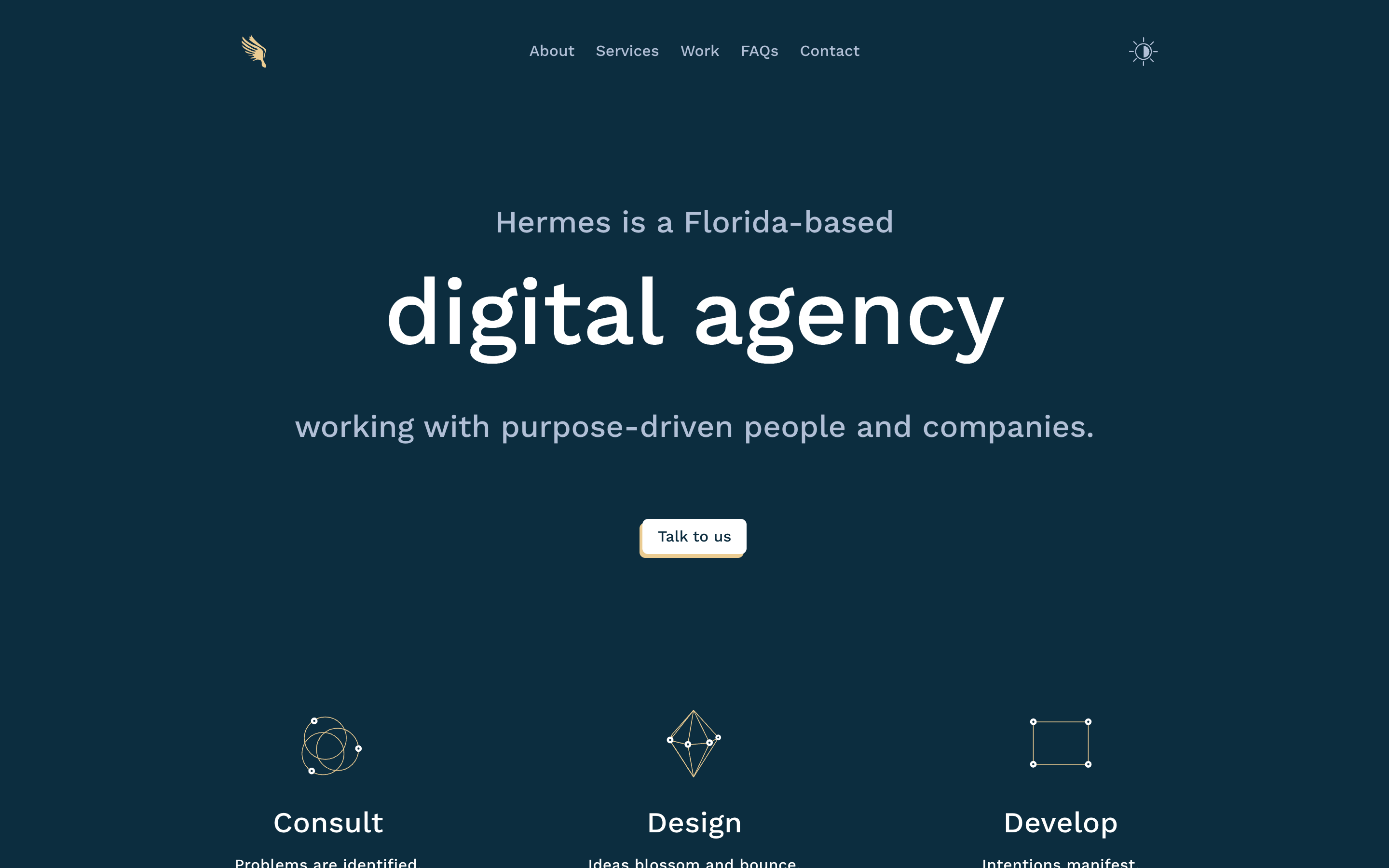 Hermes 3.0
What you're experiencing now is the latest iteration of Hermes. 
What started off as a solution for restaurants to better market themselves during the pandemic has evolved into helping 20+ businesses in 8+ different countries.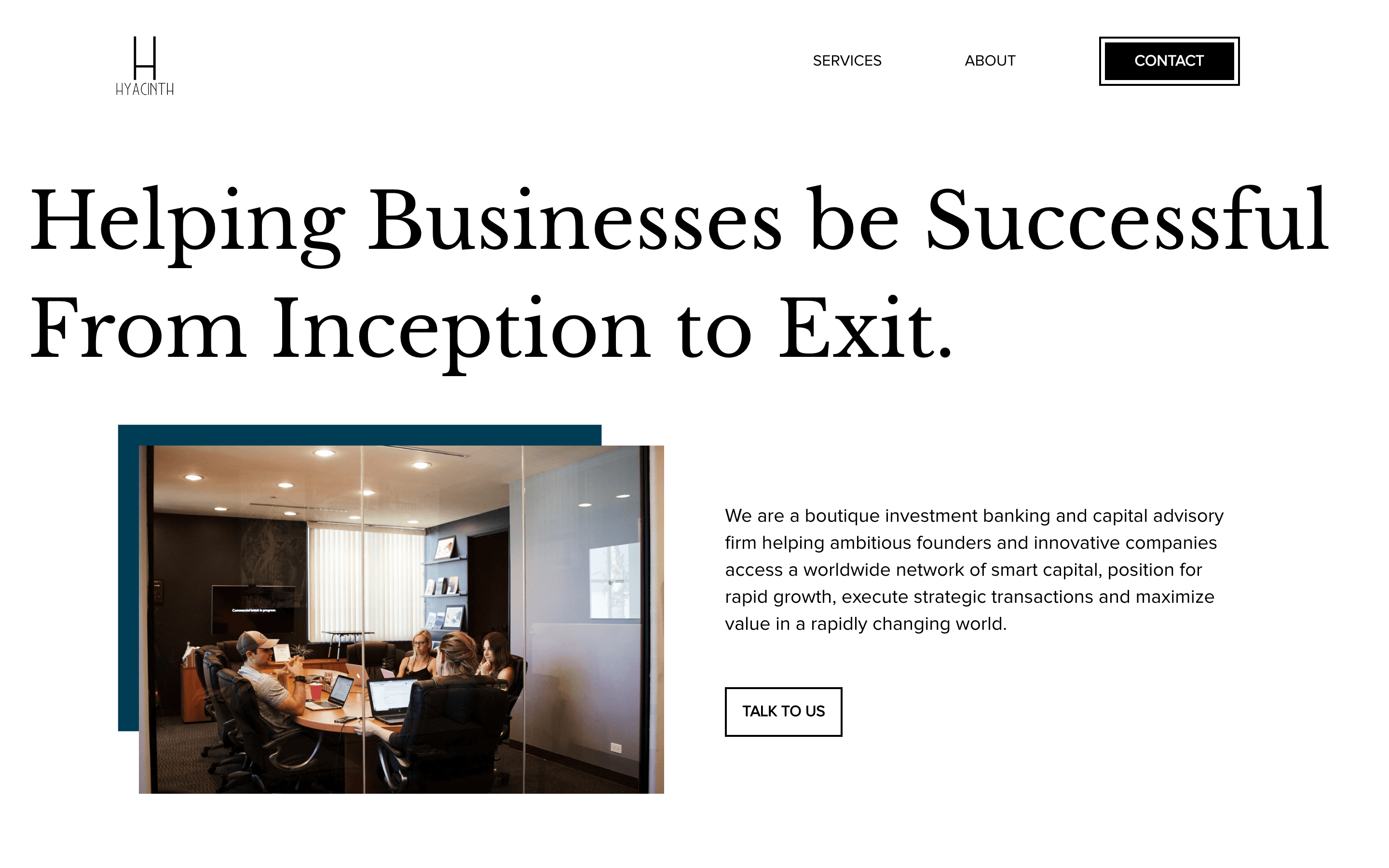 Development
Hyacinth Capital Advisors basically understand business and finance and how to best leverage the two.
This is a good example of how Hermes invests in understanding your business and how we adapt to your needs. We built their website.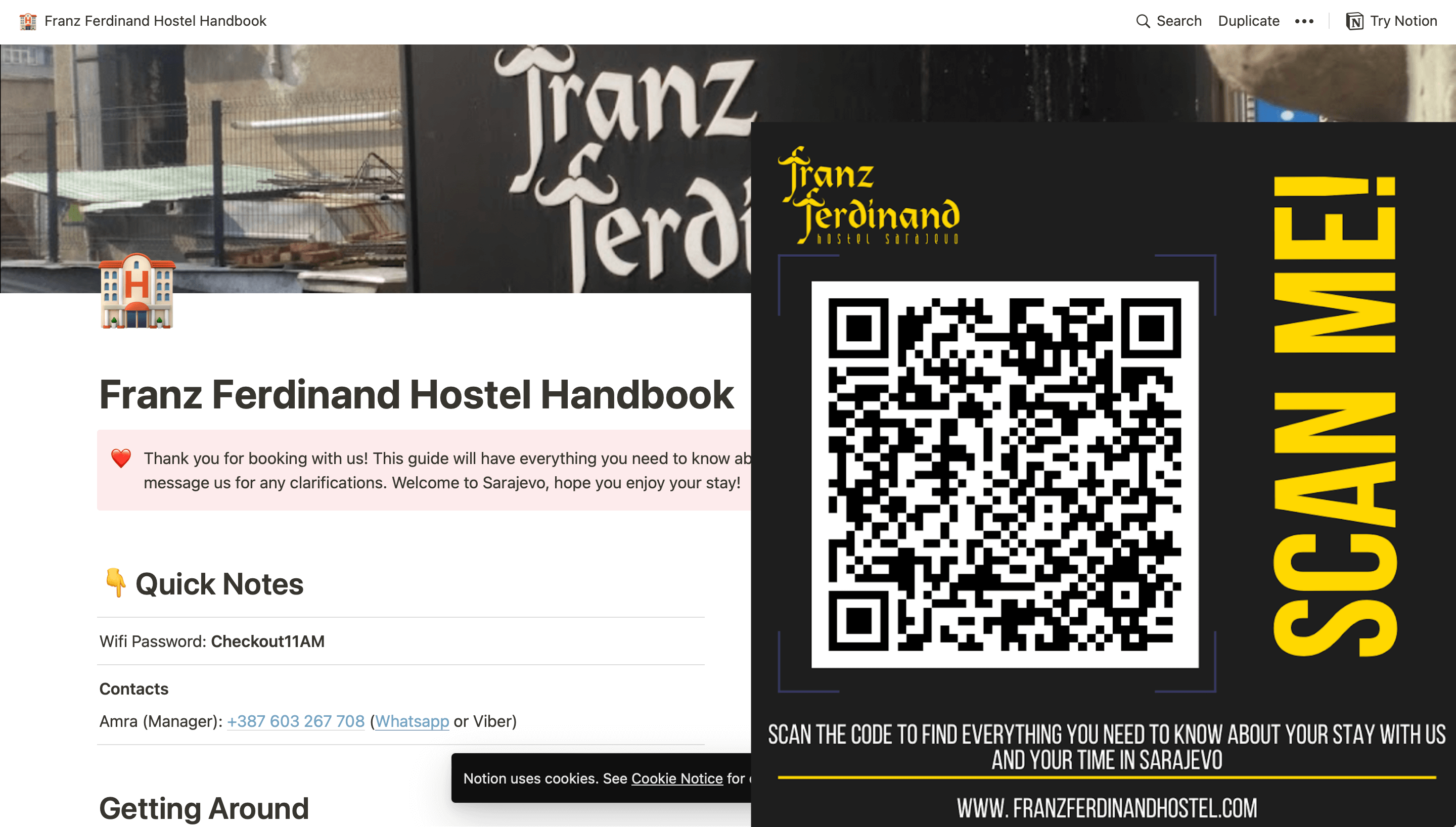 Custom
Franz Ferdinand Hostel already had a website and great reviews.
What they needed was a better customer experience so we added a QR code that gave the customer 24-hour access to a digital handbook where all their questions would be answered.
This also made it possible for employees to not be interrupted by questions that are repeatedly asked.
Basically… We replaced their front desk with a robot 🤖
Consult
Sreerani is an eCom store selling sarees but unlike other stores, they have a unique edge on how they treat their employees.
In this industry, employees are usually treated unfairly and have poor working conditions. 
Hermes had the opportunity to consult with them about the best changes they can make to optimize their website.
Consult
Neomele is a farm with a passionate dog owner who treats them as family.
These dogs are trained, very well taken care of, and compete. Because the dogs are family, there is a unique process by which family the dog is adopted.
Hermes helped Neomele by having a conversation about the potential solutions they can decide to act upon to increase their customer acquisition.
Consult
Behind Inspiring Prosperity is a woman who made a business out of her financial planning expertise. We helped her improve the journey that customers embark on with her.
Consult
Sonja the Oracle is a woman who can channel energies. Her online presence was good but it was our job to make it better. We helped with her marketing, social media posts, and more.
Design
Vroom was an Uber-like service that aimed to be an online transportation service. It was going to be a marketplace for taxis in Costa Rica because apps like Uber aren't legally allowed in some places.
Design
Treedibles is a CBD eCom store that needed a website. We were able to create page designs and point them in the right direction to develop their site.
Development
Oh It's Customized is an online store that laser etches wine glasses, drinking glasses, etc.
To earn more customers we developed a landing page and began generating traffic through paid ads.
Development
Runjie is a glass bottle factory near one of the many ports in China. Their goal was to deliver more shipments to the US.
We developed a landing page and continued with lead generation, Google Ads, emailing, and calling.
Custom
Orquiplantas is a gift shop that sells all kinds of various things, like t-shirts and custom art.
Because of her touristy location, we thought of solutions to get tourists to shop at a location like this and so we installed a QR code to get her shop more visibility and trust online. 
Custom
Artesana is based in a rural yet touristy mountain spot and is owned by a woman who practices reiki healing and other arts like pottery.
She wanted help getting more customers so we focused on her unique value proposition and installed a QR code that customers can easily generate her business Google reviews.
Creative
Taste of Paris Creperie is a restaurant based in Texas and was open to experimenting with our specific strategy: 
1) They'd offer something for free, like a coffee.
2) To claim it, the customer had to scan a QR code.
3) This would initiate a chatbot where in 24 hours we would ask customers 2-3 questions, like if they enjoyed the restaurant, and if they wanted to leave the restaurant an online review.
Hermes 1.0
The intention of starting Hermes was to help restaurants market themselves better online because we saw how the pandemic affected small businesses.
Our custom solution would drastically improve their local SEO and we'd acquire our clients repeat customers by re-marketing to previous customers via SMS promotions.
Our name bears 'Agency', but our essence is profoundly human.
What do you mean when you say you only work with with purpose-driven people and companies?
Commerce drives the world and agencies like Hermes specialize in our clients growth.
We'd become our own worst enemy by empowering companies that aren't good for the planet, people, etc.
Have you heard of B-Corps? That's a rigorous example of a purpose-driven company but we do our best to align our values with our clients and team.
How can Hermes help me?
Our main focus is understanding your business and needs so we can zone in on what's most impactful.
Converting visitors to customers through clarity, trust, and intentional user journeys is the backbone of what we do.
If that sounds general, it's because every client is different and we can solve many problems.
Will I be able to edit my website after delivery? Or will I need your help?
We build robust and easy-to-maintain websites on WordPress.
During handover, we will walk you through the back end of your website and answer any questions – but we're confident you'll be super comfortable with basic updates like copy and media.
For those of you who need ongoing support, we can help with that.